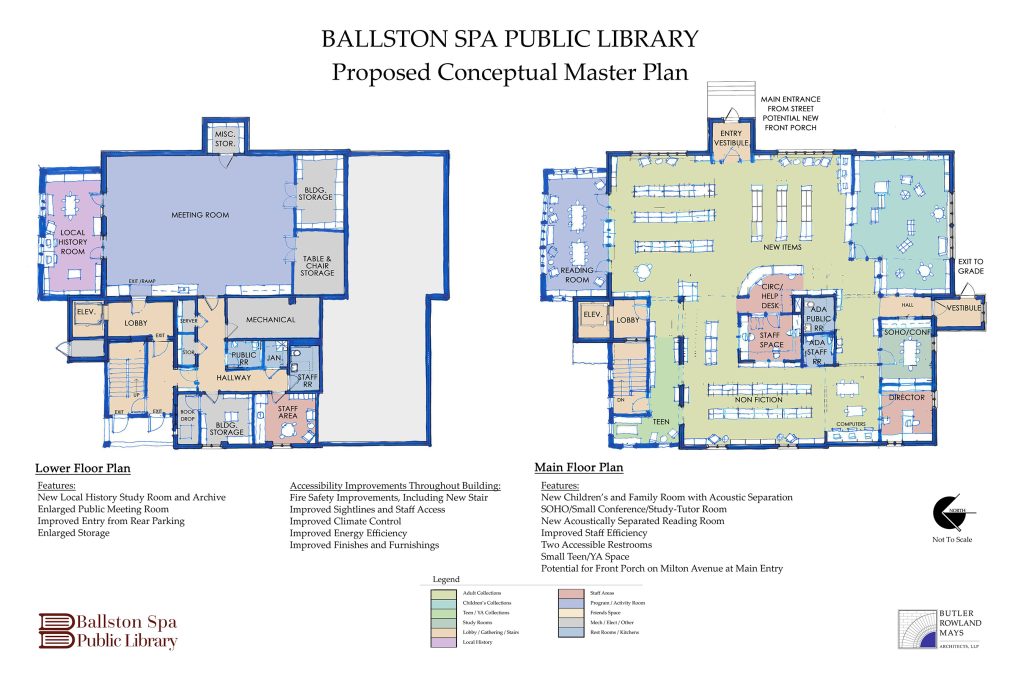 Capital Campaign
As the most visited public center in the Village of Ballston Spa, serving an in-need community, our library plays a vital role.
We are committed to developing and updating this cherished library to meet 21st Century needs.  In May of 2022 we successfully completed a Master Plan Proposal with Paul Mays of Butler Rowland Mays Architects. Our library director, BOT group and FOL officers, are dedicated to recommended improvements outlined in the Master Plan Project. Our library has not seen a significant update since the 1970's. 
The BSPL Master Plan Project will allow us to effectively:
Provide comprehensive access to library collections, spaces, and programming to the entire Ballston Spa community served by our library, raise and fully develop the critical need areas of our deteriorating building and the resources we offer to the public.
Master Plan Objectives
The completion of the anticipated Master Plan phases will accomplish the Library's stated goals of:
Improving the efficiency and sustainability of building systems, minimizing operating costs.
Addressing existing safety and accessibility issues.
Increasing non‐collection program spaces and flexibility for children, young adult, and adult populations.
Improving recognition of the local history and art, and access to same.
Acknowledging the importance of the teen population with an appropriate space.
Expanding Children's collection and program spaces and resources.
Improving staff efficiency in the pursuit of patron services.
Increasing patron access to technology
Friends of the Ballston Spa Public Library Benefit Auction May 11, 2023
Check out the auction items (updated 4/21/23)
Capital Campaign List of Donors